Breaking Developments in the Oregon Standoff Trial
by RANGEFIRE!
One juror dismissed. Alternate appointed, and deliberations start over from scratch. The jury in the Oregon Standoff Trial began deliberations last Thursday (Oct. 20, 2016).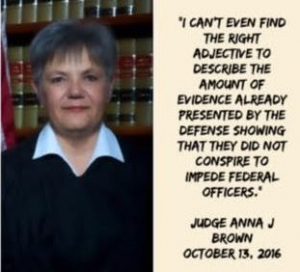 Yesterday, separate jurors passed notes to Judge Brown expressing concerns and asking questions, indicating that the jury was in deadlock, and that one of the jurors, a former BLM employee, had expressed an admitted bias at the outset of deliberations, but nothing had been done about it.
After much pushing with plenty of case law to support the motion, Judge Brown dismissed Juror No. 11, forcing her to randomly select an alternate juror, and jury deliberations will start over again from scratch.